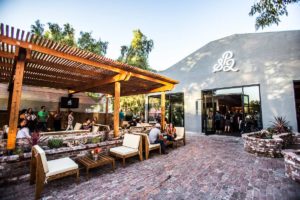 If you're the owner of a Bay Area restaurant, storefront or apartment building, how do you know which contracting company to trust when it comes time for renovations? It's a time-consuming consideration, given the amount of work that this construction company will be entrusted with. Given the fact that Bay Area real estate is so valuable, we know that you want proof of past work, too. With all this in mind, it's easy to see why Anton Kalafati of B Side Construction has been brought aboard to tackle some of the most comprehensive rehabs of San Francisco-area businesses. In this article, we'll explore Mr. Kalafati's education, background in construction and why this president of B Side Construction is the resource to trust when you need to remodel.
Anton Kalafati's decade-plus track record of top-notch renovation and construction work dates back to his three years with the University of California, San Francisco (UCSF). From February 2004 to January 2007, he was tasked with a wide variety of jobs across the 200-acre-plus health sciences campus that's located just south of Golden Gate Park. Some of those jobs included material ordering and building maintenance to help keep things running at UCSF. Given that the school's enrollment totaled approximately 3,300 in 2016, it was no small feat to keep things running at the college that was first built in the late 1800s. The crowning achievement of Anton Kalafati's time with UCSF was his role as an emergency on-call repairman. The trust that the school put in him for this task is indisputable. The fact that he concurrently attended the City College of San Francisco from 2004 to 2007 goes to show that Mr. Kalafati doesn't shy away from hard work and always rises to the occasion.
When it came time to move on from UCSF, Anton Kalafati would be promoted to president of B Side Construction. This operation, which was founded in 2003, is known throughout the Bay Area for its respectable work on restaurant remodeling jobs, storefront renovations, window installation, electrical work and apartment complex updates. If you're a business owner or operator and at the helm of any of the above entities, it's safe to say that Anton Kalafati alongside the skilled crew with B Side Construction can turn your blue prints into a reality. As president and majority owner of B Side Construction, Mr. Kalafati is also responsible for project scheduling, site management and contract negotiation. You'll always get an honest answer when sitting down with him so even the loftiest of renovation goals can be achieved on a timeline that both parties agree to.